A pessary is a small silicone device which sits in the vagina to hold back pelvic organ prolapse. A ring pessary is the most common type of pessary . Fitting is a trial and error process and although lots of people can benefit, they may not be suitable if the prolapse is very large or you have had previous repair surgery. Here at Peninsula Pelvic Floor Physiotherapy we can fit 1)ring pessaries for vaginal prolapse, 2) ring pessaries with knob for stress incontinence and 3) both types can be ordered with a "shelf" ie the ring is partially filled in to keep the cervix lifted also.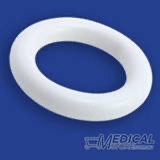 this is a simple ring pessary. It is only 2 to 4 cms wide approximately. Different sizes are available and you must be fitted for your correct size.
Ring pessaries work best for stage 1 and 2 anterior or posterior wall prolapses. If the cervix is also low, the ring pessary with shelf support can be fitted so that the cervix does not lodge in the ring.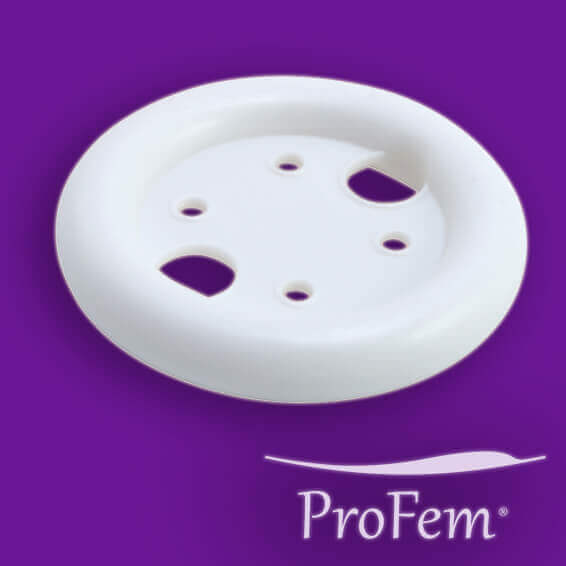 We have a "fitting set" of pessaries at our room which is sterilisable so can be safely used to allow you to try out a pessary. It is amazing that the pessary sits in the vagina, lifts the prolapse so that you do not feel the prolapse any more, and you have no sensation that the pessary is inside.
We can teach you how to put the pessary in and out yourself so that you can wash it and store it until you need it. Some women use it every day. Some women use it only on days when they will be on their feet for long periods, or days at work, or when exercising so that exercise can be done without fear of making prolapse worse.
This is a ring pessary with a thickened area which puts pressure on the urethra (bladder exit tube). This means that leakage of urine can be prevented when coughing, sneezing, laughing, exercising, lifting etc. This kind of leakage is called "stress incontinence'. Ring pessary with knob is an option for women with stress incontinence.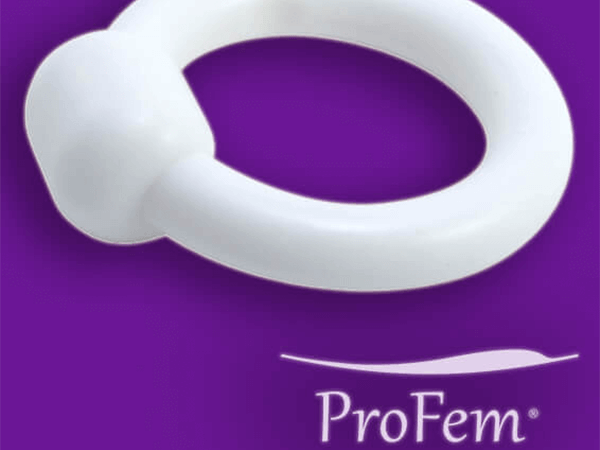 Like the plain ring pessary for prolapse, the pessary with knob also comes with a shelf support.
If going ahead with use of a pessary, you must commit to have skin checked at 6 monthly intervals by you Gynaecologist if the Gynaecologist does the fitting or your G.P. if the Physiotherapist does the fitting. At 12 months you should buy a new pessary. Women who are post-menopausal must be using vaginal oestrogen in order for the Physiotherapist to do the fitting.
A ring pessary is a way of taking away the discomfort of prolapse for lots of reasons
you don't feel mentally ready for surgery
you want time to exercise your pelvic floor before making the decision for surgery
you want to see if you can manage without surgery
you have recently had a baby and you know that the prolapse symptoms will recover in time. So you need to feel able to exercise and perhaps lift an older toddler without fear of worsening prolapse.
What do I do now if I want to try a pessary?
Make an appointment to see a Physiotherapist who can fit a pessary for you. We fit pessaries and you can make contact via our contact page which comes through directly to Caroline Bender. You can also contact Caroline Bender directly on 0437552009 to discuss whether this might work for you. Alternatively, ask to see a Gynaecologist with a view to a trial of pessary.